April 29, 2010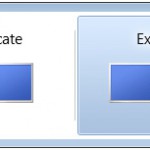 Hello.My name is Christian and I have an addiction; an addiction to constantly look for ways to do things easier in front of a computer. In more technical terms and from a usability point of view: how to minimize the number of steps on frequently ...
Read the rest of "How to speed up your daily workflows".
Written by Christian Münster
2 Comments
October 2, 2009
Because of several circumstances I have seen myself a little unfortunate when it comes to keeping a job for the last three or four years but I take comfort in the fact that I have never been fired because of incompetence – not to my ...
Read the rest of "The Eureka moment".
Written by Christian Münster
1 Comment