It's now been a full year since we started a dedicated UX department. While some software companies have had a focus on design from the outset – such as 37signals which has close to a 50/50 split between developers and designers– we have like most other software companies been focusing on functionality first.
That doesn't mean that our software design has been inadequate since the UX aspect has been a shared concern by everyone involved with building the specific functionality, but below I'll show some of the improvements that have resulted from working with UX in a more dedicated way.
Focusing on the customers
The dedicated UX department has strengthened the focus on our customers and their needs, preferences and mentalities.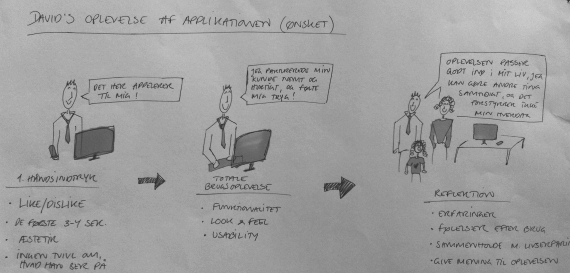 UX work on the David persona
As part of this, we have established personas with names and backgrounds, giving us David the Small Business Owner, Sharon the External Bookkeeper etc. This allows us to more precisely match specific scenarios and functionalities with the particular needs of our customers.
Focusing on the entire process
With a dedicated UX department, we are now also considering processes in a wider perspective than before. Previously we solved a specific need (e.g., displaying a popup) whereas now we think more broadly in terms of the lifecycle of the functionality.
This also means that we spend more time thinking about the communication around the functionality and ensuring that texts and graphics are worked into adoption and daily use.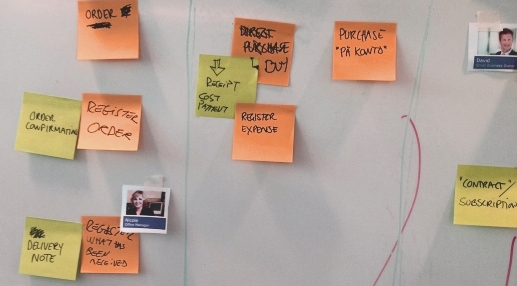 Process diagram board
Attention to detail
Dedication also means attention to detail, which is something only specialized professionals can really give you. Now, time and effort is spent on every button and piece of text, and no shade of blue is applied without due consideration. Without being fanatical or going to extremes we have been able to significantly increase the professionalism and quality of UX in our software.
The work of the UX department
Great-looking design
The dedicated UX department has also ensured that we now have some great-looking interfaces. A year ago we had a fairly OK, but bland light blue interface whereas now we have the bandwidth to create some truly stunning designs that impress both customers and everybody working with the software.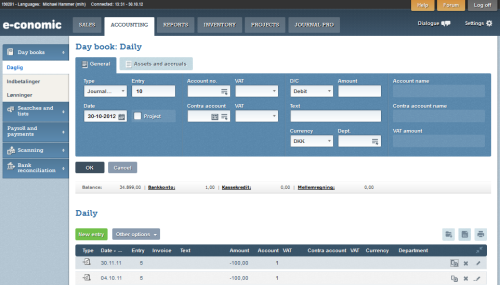 New design makeover of the e-conomic application
Testing with our users
Testing the UX in our software is gradually becoming a part of our product development process. Based on the notion that a bit of user testing is better than none at all we have managed to perform a range of ad hoc user testing sessions and have already seen positive results from this.
We have met up with some of our German users in Berlin to test some of our new software and have also tested new designs for our existing e-conomic software. Based on findings from these tests we have then revised and implemented new interfaces and functionality.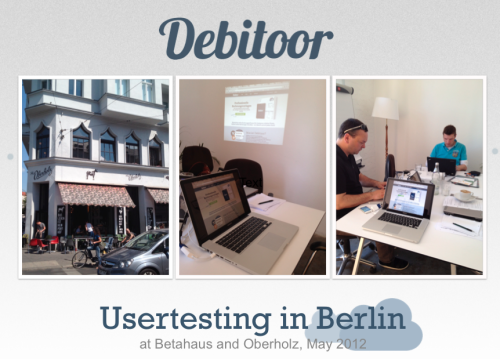 By performing user tests we are now much better qualified to prioritize and make decisions on our UX. Furthermore, we keep improving and refining the test processes to get more useful results each time. As the next step we will be exploring possibilities for remote user testing of very specific UI elements and flows.
The future of UX
Going forward, the UX department will be looking deeper into the end-to-end user experience of our customers. This involves considering the whole lifecycle from a user starts thinking about online accounting to signing up and becoming a customer and finally being a regular user of the software.
Working more collaboratively with other departments such as Marketing and Sales is part of this process, which has already started by involving the UX department in our new company websites.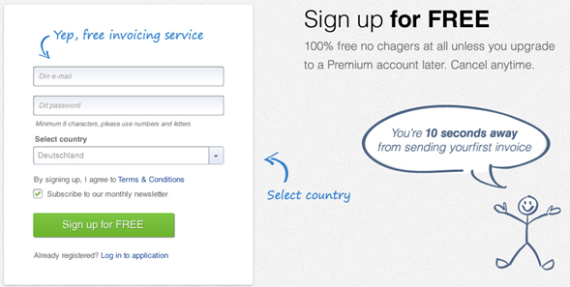 Moving towards better-looking design
Another focal point is more simplification and optimization of behavioral patterns in the software. This means evaluating the current products against the user's needs and goals and looking for ways to eliminate work and simplify the patterns. In this process we are also streamlining and standardizing the UI, patterns and workflows across the different applications and platforms.
Finally, we want to expand the UX department further in the time ahead, which means that we are looking for more talented people to join our team and help solve the future challenges in UX.
Follow our UX blog
To learn more about UX in e-conomic, check out Head of UX Mette Walsted's newly started UX blog.